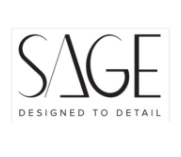 Designed To Detail
Sage rests in one of the prime locations in Thrissur which fills luxury itself to the brim. The landmark pulls up the formidable stature of Sage as such. Putting up in simple words we can call Sage as the providence of luxury. We have technically made a new approach to our structure making it true to itself. Comprehending our strategy to make it simple but elegantly luxurious and also to manage the transparency with nature is a way of blending altogether a perfect plan that got executed through Sage.
Villa 1
2690 sqft, 7.77 cents
Villa 2
2422 sqft, 7.57 centss
Villa 3
2594 sqft, 9.06 cents
Sage
Location : Chiyyaram, Thrissur
Project Type : Villas
Permit Number : OLR/BA/416/18-19
Project Status : Ongoing
Number of villas : 9
Submit Enquiry
---
Villa 1
Expressing truth as such is the concept that we brought in our Villa project of Sage. The Villa 1 project enumerates a wide range of features that light up the whole project. Villa 1 is a linear plot comprising a courtyard that connects with all parts of the Villa. Connecting with nature is the agenda that we have put forward. We mandatorily introduced double height space and material truthfulness which makes sure to expose the material as such as it is. Visual connectivity is something that we have put forward in order to expose the connection as such. Terracotta Jallies and glasses are imposed in order to get an aesthetic feature as well as to maintain a natural sense of beauty and to connect with nature.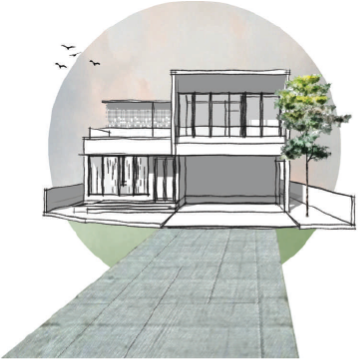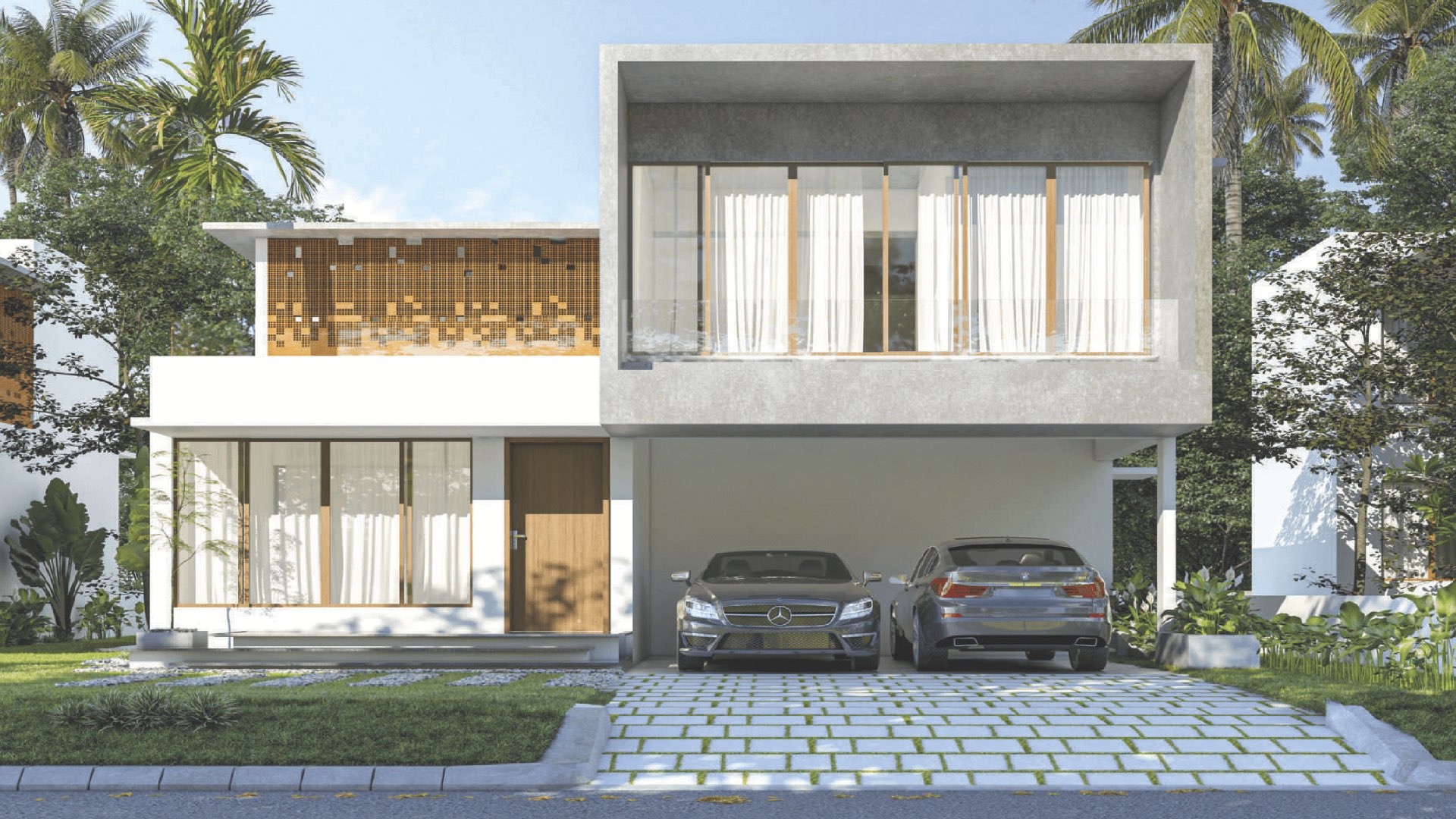 ACTIVITY ZONING
Two linear blocks of built, interlaced by landscape zone becomes the central activity area. Sit-out acts as a connection within the green space. All spaces respond towards the outdoor space.
VOLUME DEFINING SPACES
Double height spaces along with terracotta jallis brings a magnitude of scale and volume. Large windows opening to the garden provides a feeling of garden living.
---
Villa 2
The impending factors that attribute Villa 2 is that the space is largely interlaced with nature. The interconnection with nature is the highlighting factor that propels Villa2. Every corner of the Villa 2 tends to connect with nature imparting a positive circulation. Villa 2 is a square plot which incorporates nature as such, yet again taking up the fact that we have put forward; connecting with nature. The front side façade, designed with glass doors propagate with life and nature, maintaining a connection with inside and outside. Natural lighting, ventilation and aesthetics of nature play a great deal in the case of our villa projects. Even with all these glass doors and connection with nature, privacy is the top-notch priority which is correctly taken care of. Another important aspect to flaunt is the stair room and staircase that serve two factors. As the light shifts the jallies the light patterns formed around the walls makes itself a decorative pattern which improves the design further.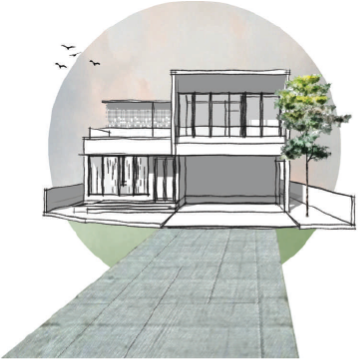 ACTIVITY ZONING
Linear activity pattern connecting green spaces. Heart of the house is the family zone. To achieve light and cross ventilation rooms are arranged in this manner.
TRANSITION SPACES
Double height spaces jammed between green spaces becomes the perfect platform for family interaction. Large windows and jallis bring in natural light and facilitate cross ventilation.
---
Villa 3
Villa 3, brings in the linear composition once again with a cozy extra living room space that prompts to provide adequate family spacing. Perforated jallies makes in a new way to turn designing to the next realm. The double height space also enhances the aesthetic value by making it more attractive and spacious. The proper use of materials in such a way that it exposes the exact meaning of their purpose. Simplicity and luxury make a good pact that introduces the importance of nature, and the aesthetic flavor that it imparts to the dwellers.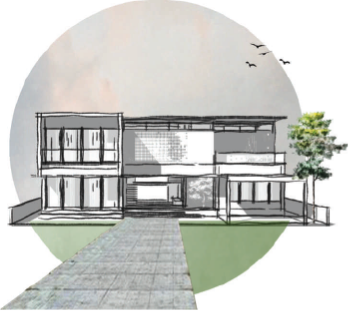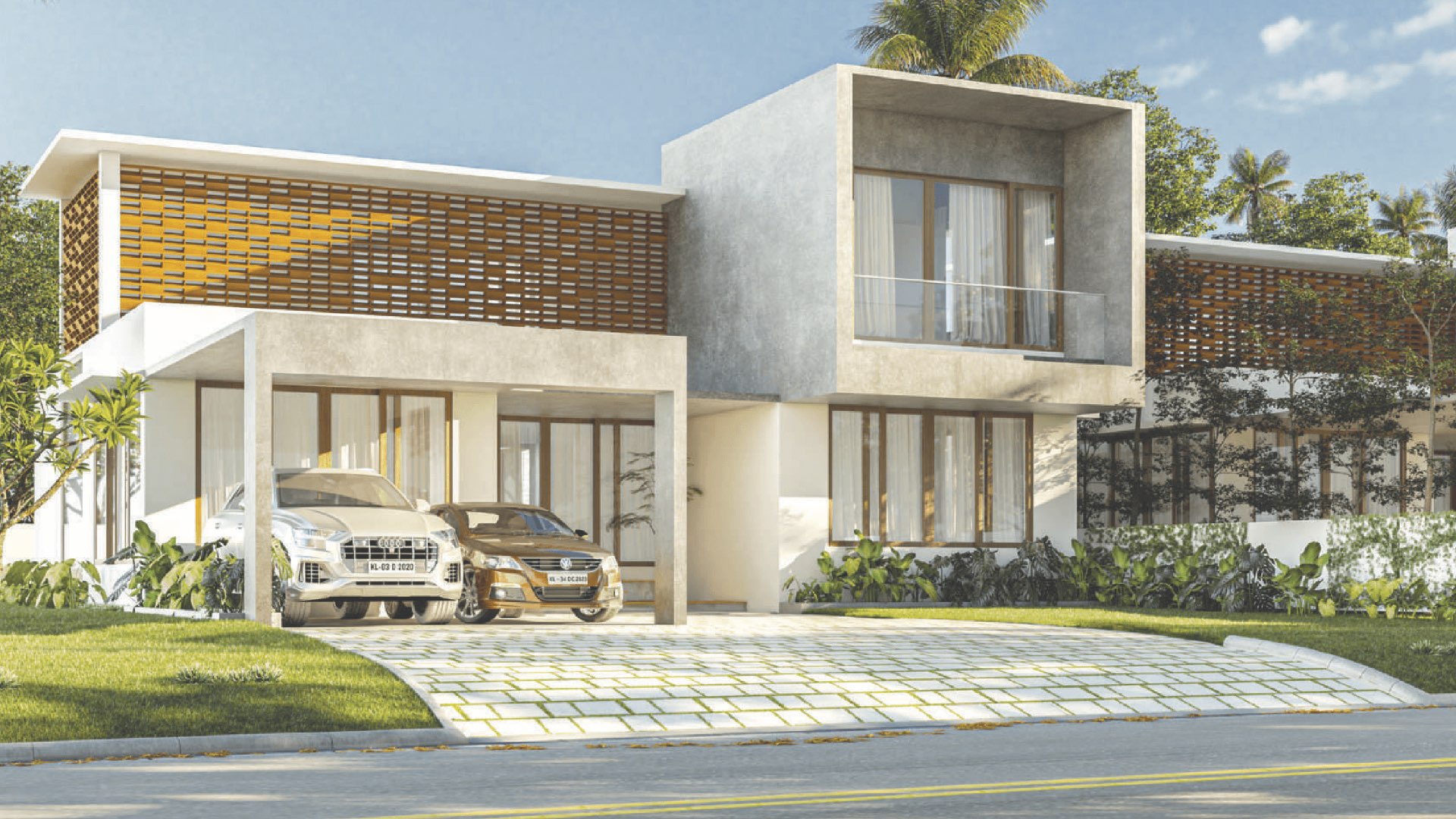 ACTIVITY ZONING
The garden flows from outside to inside creating open and nature friendly character at all points of the residence. North and East have more open spaces capturing the best of east and morning sunlight
CANTILEVERED SPACES
The landscape flows from the top level to the lower level. Cantilevered balcony spaces becomes the major element that binds the spaces inside the home. Design expresses the deep relationship between the built and unbuilt.
---
DESIGN RESEARCH
---
Material, Texture and Patterns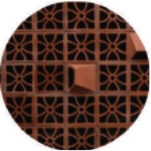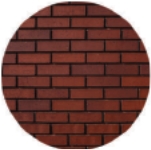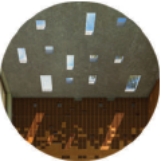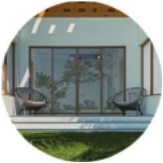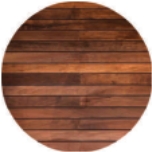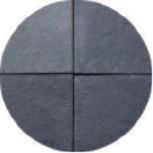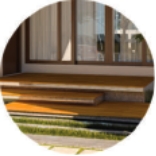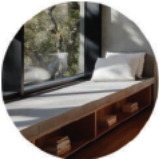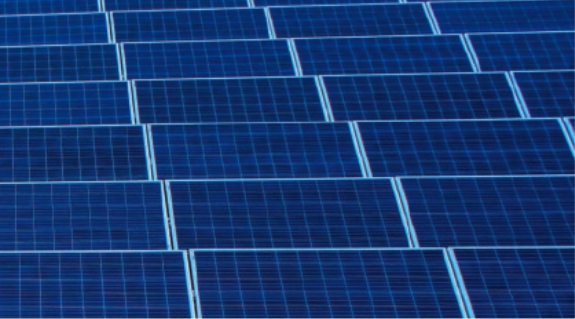 100% RENEWABLE ENERGY
We aim to create self-sustainable and energy-efficient homes. By installing solar panels on the rooftop of every house which creates almost 100% energy for a home, we are making the house's energy sustainable. As we are making the activity space with 40% of the total area in the ground, the rooftop can be used fully for solar panels. Connected to a KSEB grid, the electricity supply will be continuous, eliminating any worry of huge electricity bills.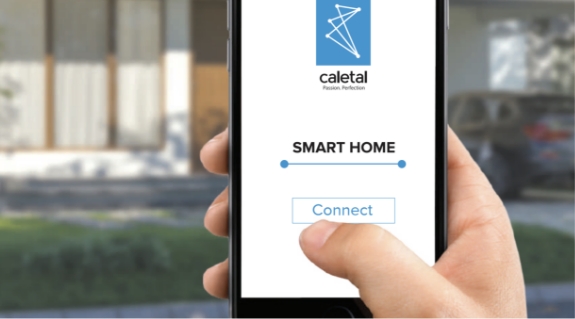 SMART HOMES
Caletal is always way ahead in the case of advanced technology; in Sage we proudly have administrated IOT systems. Premium features are available at your fingertip and are tailored for ease-of-living which include door sensors, video-viewing and limitless possibilities. We leap into futuristic technology using automated homes. Your safety is our responsibility, and we have taken full precautions to safeguard you.
SERVICES
With an eye for detail for space and design, we create unique homes that transform your home.