Empower Your Living.
Caletal Cyan is an innovative housing project that redefines space, connects with the ecosystem and contributes to the environment. Cyan shows the strength of the two colours of the world origin – BLUE & GREEN. Water, Green space, and Green energy are what we consider when building Caletal Cyan.
Cyan
Location :Kuttanellur P.O, Thrissur
Project Type : Villas
Permit Number : C1/1078/2019/DDS
Project Status : Ongoing
Number of villas : 27
Submit Enquiry
---
Green Architecture
Dedicating 40% of space for greenery, we wanted to redefine home construction in the industry. After a year of research and development. we found that lot of space is left useless around the house in a normal villa design. After months of brainstorming, we came up with the idea to accumulate the outer space to a single side. By pushing the villa to one side of the plot. the design gives 3-meters of wide utilisable green space. A closed wall will separate houses on the rear side.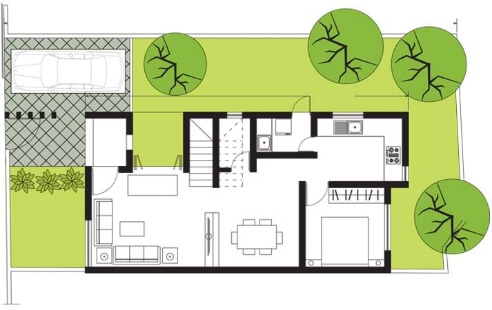 ---
Climate Responsive Design
Looking into simple things like building orientation can result in a significant impact. We arranged the building orientation and sun shades considering the sunlight direction, which will help in reducing carbon footprint The uniquely designed ventilation and the positive and negative pressures at entry and exit points of the air passage makes the room cooler without artificial cooling. The dead-walls on the south facade and extended shades in the front will reduce heat gain.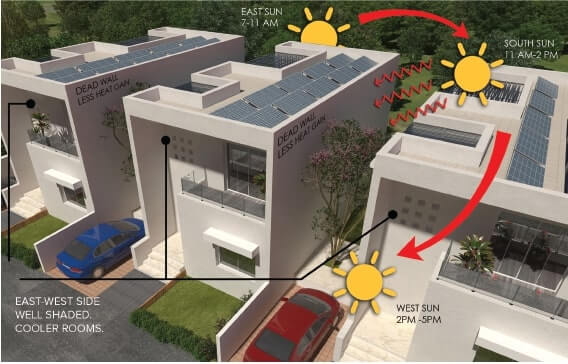 ---
100% Renewable Energy*
As an innovative developer. Caletal always looks forward to innovate for future. We aim to create self-sustainable and energy-efficient homes. By installing solar panels on the rooftop of every house which creates almost 100% energy for a home, we are making the house's energy sustainable. As we are making the activity space with 40% of the total area in the ground, rooftop can be used fully for solar panels. Connected to a KSEB grid, the electricity supply will be continuous, eliminating any worry of huge electricity bills.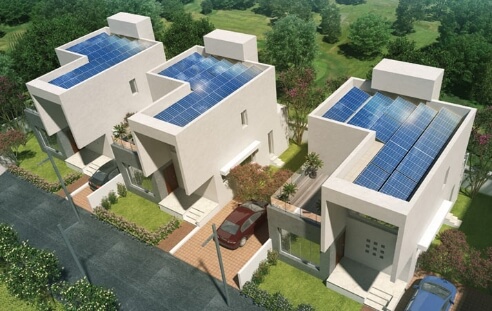 ---
Rain Water Harvesting
Climate change is real. And we act positively towards it. Through rainwater harvesting, we plan to do as much as we can for the planet — to sustain our future. In our home design, rainwater collected in the rooftop will get transferred to the percolation pits within the villas. Rainwater which falls on the roads and terraces is collected In percolation pits. Slope of the road towards the pits maximizes water collection and conservation. Our roads in the project are constructed with percolation pits and the road slopes a little towards the pits. This way, we try to stabilize the underground water within the area and every resident of Caletal Cyan does his part.

---
Garden to Every Home
Inspired from human's communion with nature, we are creating a diversified garden for every home. With the benefit of 40% green space in each villa, we will cover it with flowering plants and garden. Trees in the project will maintain ecosystem to the ambience and will safeguard against solar radiation and noise pollution. And there will be one tree in each villa compound, and in all other open spaces.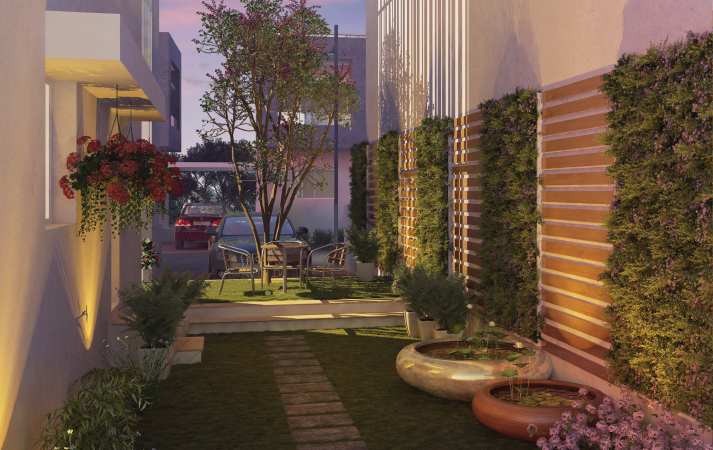 ---
Vertical Garden
After extensive research and experimentation. Cyan's team of ecological designers have proposed vertical gardening. Wall-mounted vertical landscaping is attached to a wall. It is fully equipped to retain the ecological diversity of various plants.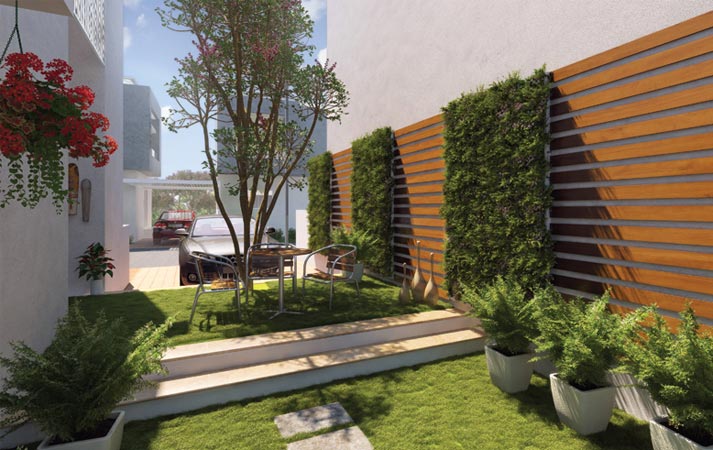 ---
Club House
As part of our vision to promote a sustainable and healthy lifestyle, we provide the best facilities for our residents' health and recreation. The garden, around the club house with trees, flowering plants and jogging track within, will keep the person rejuvenated and fresh.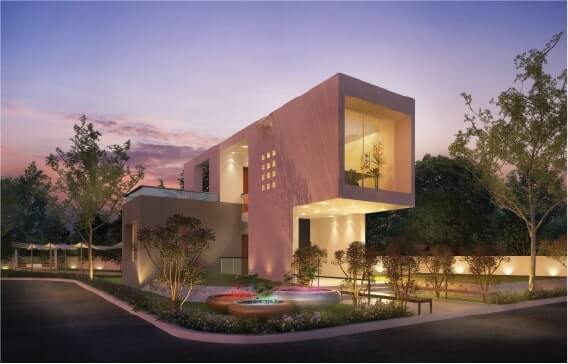 ---
Entrance Gate
As the face of the project, we designed the entrance gate in sync with the total project design concept It will appear like a folded slab twisted around and the security cabin placed within it And here. we welcome you to live in peace and harmony with nature.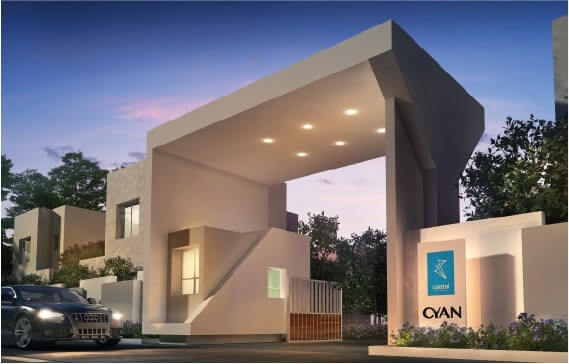 ---
Smart Homes
Caletal Cyan brings to your homes the age of the loT. With Caletals smartphone app, its now possible to control things like your fan, AK, lighting and even security systems from anywhere with just the touch of a screen. Cyan's home automation ensures energy efficiency by remotely powering off systems/ appliances when they aren't in use. The basic features include controlling appliances in three bedrooms, hall and outdoor. Focusing on your safety and security, the gas monitors and kitchen sensors intimate gas leak or fire by messaging in the app. At Caletal, premium features are also tailored for ease-of-living. This includes door sensors, automated gates, video-viewing and limitless possibilities. We leap into futuristic technology using automated homes.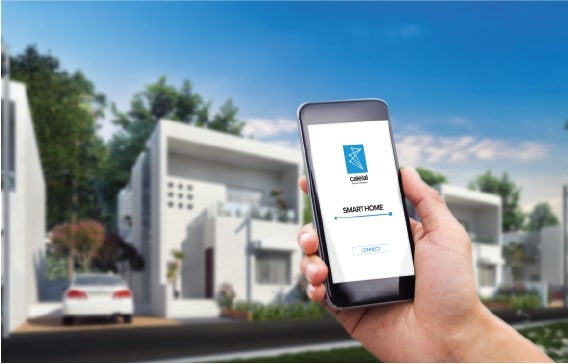 ---
Flowering Plants
At Cyan, serene living spaces are closely integrated with nature. Inspired by the natural ecosystem, Cyan's botanists have carefully selected an assortment of indigenous plants. The flowering trees and shrubs thrive in Kerala's climate, add beauty to the landscape and preserve our natural heritage. Our hand-picked variety ranges from fragrant and medicinal plants such as Nerium oleander, Magnolia champaca, Hibiscus, Catharanthus roseus, Golden Trumpet, Jasmine to Ixora coccinea and Latana Camara. Aesthetic and spiritual, native plants enhance positive energy.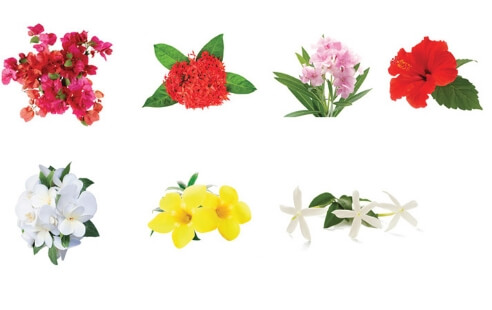 ---
Indigenous Trees
At Cyan, we believe in creating greens-pace. Our ecological designers emphasis on preserving biodiversity. Trees provide shade, improve oxygen levels and purify the environment Our natural ecosystem is well-crafted to combat climate change. Cyan's high-quality select including Ashoka tree, Neem, Golden Shower, Mimusops elengi, Gulmohar and Lakshmi Tam create a fresh, tranquil aura around your living space. We strive to create a healthy, balanced ecosystem for your well-being.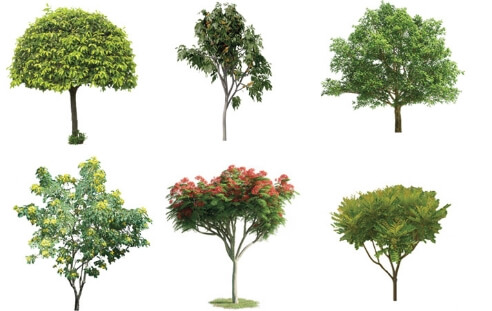 ---
SERVICES
With an eye for detail for space and design, we create unique homes that transform your home.